"In three years, 54% of company employees will need significant retraining of their skills". That's what emerged from the World Economic Forum 20201. A significant truth that reveals how skill gaps are a factor not to be underestimated.
What we are experiencing is called the fourth industrial revolution, where we are forced to reinvent ourselves to keep up with technology and new needs. Take sales, for example; how many new skills are required today to keep up with the world of e-commerce or the new techniques of remote selling, distance selling and remote negotiation? Skills age but we don't, or rather, professions evolve faster than we age.
A bridge to overcome the skill gap
This gap between workers' skills and required skills is called the skill gap: the skill gap is nothing more than the difference between a current level of knowledge and a desired one. If you ask yourself now what new skills you would like to achieve in X months, some gaps may already appear. Some will be more trivial, others more expensive, while others will require time and effort. To bring the goal home we need specific learning paths that guide us towards the desired level. Training and coaching programs are undoubtedly the best bridges to overcome these gaps once and for all.
There is also another option, namely, to hire new resources that immediately meet the required needs – but it's not as easy as it seems. In fact, it is estimated that, on average, 42 days are required to fill a vacant position and it's complicated to quickly find "ready for use" resources. Companies need to focus on training paths that guide their resources towards high standards and fluid abilities.
What skill gaps to fill?
It's also important to consider what skills the fourth industrial revolution requires. We all think of hi-tech and digital skills as a top priority, but that's not the case.
The World Economic Forum has identified the most sought-after skills in various sectors from 2015 to 20202, and it appears that the demand for "interpersonal skills" has dramatically increased. In other words, not just science and technology, but also soft skills, interpersonal skills and interaction with others.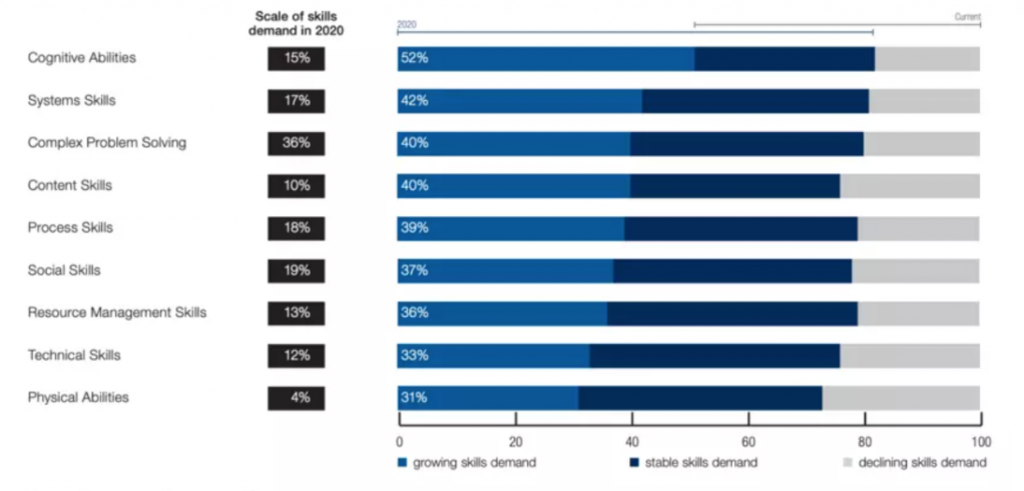 Sales and skill gaps
Why are soft skills in such high demand in a super technological world? The reason is that new professions fall into a broader spectrum than technology and cover human sectors such as sales, marketing, HR, and training. Relationships between people and the need to strengthen social skills is still important. In fact, it is estimated that among future professional clusters, requests for sales personnel will increase by about 44% in two years and the demand for these specialists (calculated on every 10,000 new opportunities) will rise from 85 units in 2020 to 127 units in 20223.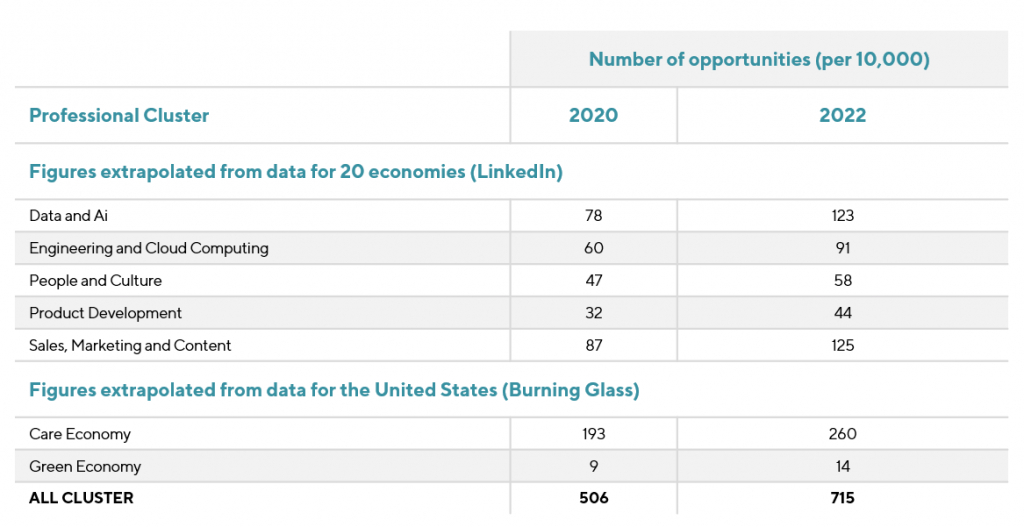 The professions we know today are destined to change, in order to keep up with the new economies. The skills of today's sales team may already be outdated, updates on new techniques, strategies, and negotiations may already be needed. The advent of agile and smart working teaches us how dialogue methods with leads and clients have already evolved.
We must act now
Bridging the skills gap is a current and future need. Ensuring resources can develop and improve their abilities to respond to an evolving market is a strategic asset that must be evaluated now. The level of skills must be studied and the objectives to be achieved analyzed in order to start building a strong bridge to overcome any gap head-on.
Next steps
To start strengthening future sales skills discover our "Remote Selling" program or contact us to talk with one of our experts.
References
1 World Economic Forum (2020). The Future of Jobs report. Geneve: World Economic Forum
2 Ibid.
3 Ibid.