Trust has always been an important factor in business success. But never more so than now. At a time when mistrust of business is on the rise, trust is also becoming the new currency. But what exactly is trust and how do we win the trust of our customers? Mercuri International, in its latest study The Future State of Trust, has identified 6 critical keys to gaining customer trust and therefore increasing competitiveness.
We all know that trust is crucial for any kind of relationship. Whether we're talking marriage, friendship, leadership, a football team, politics, or economics. And so, it is with business relationships. Several studies have shown that companies with high levels of trust have more loyal customers, do more and more profitable business, get customers who recommend them, have shorter sales cycles, higher revenues and greater market value than companies with low levels of trust.
Confidence in large companies at record low
Despite this fact, long-term studies by Gallup and others show that confidence in both institutions and companies is at a record low. For example, only 14% of Americans currently have a high or fair level of trust in large corporations, compared to 34% in 1975. That's a drop of nearly 60 percent. New expectations among younger people, rising inequality, the climate crisis, data breaches, corporate scandals, fake news, political instability and most recently the pandemic, the energy crisis and the war in Ukraine are some of the reasons for this downward trend. In other words, trust has never been more important. In a world where mistrust is on the rise, trust is also becoming the new currency that allows companies to differentiate themselves and create unique competitive advantages.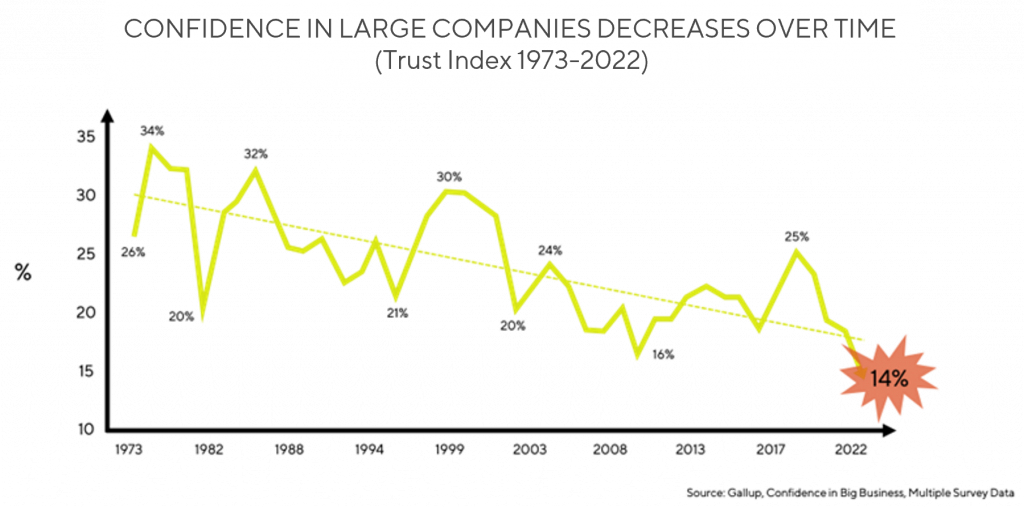 Trust – a feeling that cannot be bought
But what is trust? What does it mean when someone says, "I trust you" or "I trust your company"?

First, we can say that trust is not something that can be bought. Nor is it an instruction. We can't tell our customers to trust us, or instruct two people to trust each other when working together. Trust is something we earn, based on our actions and it's built up over time.
"Trust is a feeling, or belief, that someone is genuine and honest and won't hurt you, or that something is safe and trustworthy"
In practice, this means that if I say that I trust you, I am saying that I believe in you. I am willing to take the risk of doing business with you because I feel safe both psychologically and physically, which is even more important in an age where business is becoming more complex – and increasingly digital. Helping the customer make a confident buying decision can therefore be seen as a mantra that more businesses need to strive for.
6 keys that research shows lead to increased trust
So, what can companies and salespeople do to gain the trust of their customers and make business increasingly profitable?
In the research project The Future State of Trust, Mercuri International interviewed over 1,000 business-to-business (B2B) decision-makers to find out what they value when choosing a particular supplier or vendor. The results confirm that trust is more important than ever. Almost all (99%) of respondents, say that trust is crucial when choosing a supplier. In other words, no trust, no business. Similarly, if we win the customer's trust, we are more likely to do more profitable business.
The results of the study reveal 6 keys that all contribute to increased trust and thus increased loyalty, shorter sales cycles, and increased sales with higher profitability. The keys are (in descending order of importance):
1. Reliability – are you doing what you promised to do?
Doing what you promise to do is the most important key to gaining customer trust. In our study, 90% of decision-makers cited this factor as crucial to building trust. Sellers who are reliable and who always ensure that they can deliver the values promised will thus gain trust, which in turn leads to the customer feeling confident in their purchase decision.
2. Competence – do you bring expertise and customer value?
No customer wants to do business with salespeople or companies that don't know their stuff or can't deliver quality products and services. Competence therefore refers to your ability to show that you know what you are talking about and to prove that your company can deliver what you promised to do. As a salesperson, it includes your abilities, your skills, your knowledge, your results but also your track record. Salespeople and companies that gain trust possess expertise and create value for the customer through the buying process.
3. Integrity – do you act ethically and morally?
Integrity means that you have a set of authentic values that you believe in, that you live by, and that other people tend to agree with. And because they value the same things, they are more willing to do business with you. That means always being honest, transparent, and doing what's right, because it's right – even if it costs money, time or resources. This applies to both sellers and businesses.
4. Benevolence/purpose – do you genuinely care about the customer and society at large?
Salespeople who win customers' trust have a high degree of benevolence and empathy but also an intention to help. In other words, they genuinely care about the customer. Salespeople who care are not driven by their ego. They don't care about the customer because they want to get a bonus or because they want to reach their budget. They care because they genuinely want to help. And if they care, the customer is more likely to trust them. From a business perspective, this key is about having a purpose beyond making money and contributing to a better society.
5. Reputation – are people willing to recommend you and your company?
Reputation is what you get when you master the first four dimensions of trust. It is an indirect result of everything you do, your brand and your reputation. Companies and salespeople with a good reputation make people more willing to recommend you. And if they are willing to recommend you, it will open doors to more business opportunities. This key has become increasingly important in the social networking society we live in.
6. Security – are you handling customer data securely?
Security means that the customer feels confident about how you handle and protect sensitive data. Something that has become increasingly important in a world full of ones and zeros. It refers to everything from how data is entered into a system to how it is used, archived, or deleted. If this is abused, a company's trust can be quickly eroded.
Working towards these six keys provides a solid foundation for both growth and profitability. And that includes all parts of a business. From putting trust at the top of the strategic agenda to how we build culture, recruit, sell, brand, develop skills, or manage and develop products and services. Trust is a strategy that is also highly measurable and actionable. The higher the trust score, the more likely we are to build long-term profitable customer relationships.
Do you want to know more about how to measure the trust your customers have in your company? Please contact us. Want to know more about the results of the study? Then feel free to download the research report "The Future State of Sales" for free here.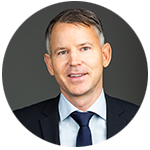 Henrik Larsson-Broman
Researcher and trend analyst
Mercuri International Research